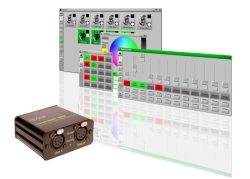 Easy to Use
The LimeLIGHT lighting software is designed to be quick and easy to program, whilst allowing you to do more than other lighting consoles. It has a simple, self explanatory interface which can be quickly and easily learnt. But don't be fooled by its simplicity, as it boasts a bunch of powerful features too which seriously cut down on the time you need to program your rig.
Versatile
The LimeLIGHT system is a simple and inexpensive yet extremely powerful lighting control solution. It is aimed at those who generally control small to medium numbers of intelligent fixtures and/or generic lights. LimeLIGHT is ideal for small to medium sized venues, live bands, discos and dance events, schools, colleges and theatres, not to mention touring acts, where many are significantly cutting the volume of equipment that they tour to save on transportation costs.
Portable
Because the LimeLIGHT system is software-based, it is a lot more compact than other lighting control solutions. All that is needed is a laptop and one or more of the LimeLIGHT DX2 or Verse units, either of which will fit easily into the pocket of a laptop bag. This means you don't need to haul around a big lighting desk, and you can even take it with you in your hand luggage.
Expandable
With the addition of more than one LimeLIGHT Verse and/or DX2 units, the LimeLIGHT control software will allow multiple universes of DMX output from the same computer, making LimeLIGHT the ideal solution for larger AV and production companies and large events, where more fixtures need to be controlled. LimeLIGHT is a fully modular and expandable solution.