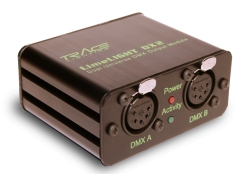 Get all the Features
Once you connect the LimeLIGHT DX2 unit to your PC, you'll be able to operate the LimeLIGHT DMX software in "Full Mode". This will unlock all of LimeLIGHT's powerful features, aimed at users in professional lighting situations. This includes the use of LimeLIGHT's Custom Palettes.
[compare]
Reliable
The LimeLIGHT DX2 unit allows the LimeLIGHT lighting software to output two universes of DMX-512 with complete reliability. It connects to any PC running the LimeLIGHT DMX software using a USB connection for quick and simple installation. The unit will output two independent universes of DMX-512 through its two 5-pin XLR connectors. Alternatively you can configure the unit to output the same universe through both XLR connectors. Useful when you want to send the same signal in two different directions!
Built to Last
The tough aluminium enclosure of the DX2 means the unit will withstand life on the road, whilst still being lightweight and extremely portable. Just 34mm deep (less than an inch and a half), the DX2 will slip easily into the front of any laptop bag.
Expandable
With the addition of further LimeLIGHT DX2 or Verse units, the LimeLIGHT lighting software will allow an unlimited number of universes of DMX output from the same computer, making the DX2 the ideal solution for larger AV and production companies and large events, where more fixtures need to be controlled.
Networkable
When a DX2 unit is connected to LimeLIGHT, the Art-Net output feature is unlocked, allowing Art-Net devices to be connected via the PC's Ethernet port. This is great for large rigs where even more universes are needed.